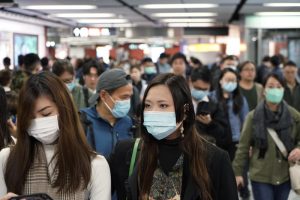 Many foreign students on shuttered university campuses in Britain, the United States and elsewhere are being told to return home and are rushing to secure flights before travel shutdowns, contributing to a new spike in coronavirus cases in Hong Kong.
The call to return home came just as Hong Kong was announcing the reopening of limited face-to-face teaching at a university that shut down after violent protests in November, and remained shut due to the virus outbreak.
Singapore also registered an uptick in cases this week as Singaporeans, including many students, were returning home.
It comes as Hong Kong Polytechnic University (PolyU) announced this week it would allow face-to-face teaching from 6 April for courses involving practical work, clinical skills training, and laboratory and studio work at the campus, which has a strong reputation for engineering and design.
They include students at the faculty of health and social sciences, where practical training was an essential part of the programme, in areas where the coronavirus outbreak has increased the demand for qualified personnel.
PolyU is the first to announce face-to-face classes.
Earlier this month the University of Hong Kong had said it would resume limited face-to-face teaching in its medical faculty on 1 April but has now postponed this to 1 May. Other universities have relied on online teaching as a stop-gap while face-to-face teaching is suspended, with no clear signal as to when schools and universities will reopen.
Rush to return
The rush to return to Hong Kong by students who had been overseas is contributing to an unexpected spike in new COVID-19 cases, which could further push back the reopening of universities and schools.
Hong Kong Chief Executive Carrie Lam said this week that 90% of confirmed COVID-19 cases in the past two weeks were "imported" – meaning they had not originated in China, the epicentre of the coronavirus outbreak, or Hong Kong, and that more stringent measures were needed to contain the virus.
She was referring to a new spike in confirmed cases, which had previously peaked in early February.
Hong Kong has had under 170 cases and four deaths, compared to much larger caseloads emerging now in many European countries such as Britain, France, Italy and Spain, that are popular with exchange students, and the United States, a major destination for students from Hong Kong and China.
Singapore's education ministry this week also advised institutions to recall their students on exchanges or internships abroad as soon as possible, sparking a rush back home, particularly from affected countries in Europe.
Italy and France are among the countries with rising numbers of cases that have closed schools and universities and imposed curfew-like restrictions on residents.
Singapore, which requires Singaporeans and residents returning to the country to isolate for 14 days, saw 47 new cases on 18 March – the highest in a single day, bringing the total number of cases to 313. Singapore has so far avoided any deaths from COVID-19.
Singapore's National Development Minister Lawrence Wong, who co-chairs the multi-ministry task force set up to deal with the outbreak, said the increases were concerning.
"As more Singaporeans, such as students and workers, return home, the country has to be mentally prepared that numbers could remain high in the coming days," he said on 18 March.
Of the 47 new cases reported on 18 March, 33 were 'imported', including by 30 returning Singapore residents who were infected overseas, mainly in Europe.
Students arriving as new restrictions kick in
Many Hong Kong students arrived from European countries this week as the Hong Kong government declared a 'red alert', requiring a 14-day quarantine from all arrivals from anywhere in the world, except from Taiwan and Macau, from 19 March onwards. Arrivals from mainland China are already required to self-isolate.
Some students who arrived in Hong Kong in advance of the 19 March deadline said they would quarantine themselves voluntarily.
Dr Chuang Shuk-kwan from Hong Kong's Centre for Health Protection this week said those studying overseas should not come back if they are already feeling ill. But for those without symptoms, "if they are advised by their school or their parents want them to come back to Hong Kong, I think they can," he told local radio.
The centre said at its daily briefing on Tuesday that among five confirmed cases among people arriving from Europe on Tuesday were two students aged 21 and 27 who flew back to Hong Kong from London and tested positive for the virus shortly after arriving at Hong Kong airport, admitting they felt unwell.
Some 14 new cases were confirmed on Wednesday, a record daily high. All but one of the cases had just returned from Europe. Three of them were students from England.
Several universities in the US have asked overseas students to leave the campus after individuals tested positive at the university. Universities including Harvard, Stanford and Georgetown asked students to move out, causing chaos and panic among students trying to find ways to return home.
A number of Hong Kong's universities have advised their students on exchange programmes in Europe and the US to return home and said new student exchanges with affected countries in Europe would not go ahead.
Exchange students told to return home
Singapore's education ministry on 15 March issued similar advisories to Singaporean students to return home 'as soon as possible' because of the rapid rise in COVID-19 cases around the world and said it would arrange flights with Singapore airlines if needed, especially to key cities.
"The global COVID-19 situation is very fluid and uncertain. Other than travel restrictions and reduction of services, as cases grow, there may be a strain on medical facilities. Should you fall ill, medical care may not be readily available. And with the increasing disruption to travel routes, you may face issues booking flights when you do decide to return," Singapore's Higher Education and Skills Minister, Ong Ye Kung, said on Tuesday.
Universities and other higher education institutions have told students, including those on internship placements and exchange programmes, to return.
Singapore's Nanyang Technological University told some students to return by 20 March, while Singapore Management University (SMU) told students to return by 5 April.
The National University of Singapore (NUS) said it was recalling some 200 of its students on overseas internships. NUS and SMU had already suspended all student exchanges to Italy on 4 March as that country became the worst-affected in Europe.
NUS said it would find a way for some students to continue their internship with companies in Singapore where possible, and said the university would pay or reimburse flights back to Singapore, rental deposits, outstanding rental obligations, mobile and wifi plans, shipping belongings and extra baggage allowances within reason.
"We will ensure that you will suffer no academic loss and financial loss due to this recall," wrote NUS Overseas Colleges Director Chee Yeow Meng in an email. The university would also provide campus facilities for self-isolation if a student's family is not in Singapore.
The education ministry has said there will be no delay to students' graduation as a result of the disruption.
Universities in Singapore have reminded staff and students that any travel "for official reasons" must be approved by the university and said non-compliance with any of the control measures implemented by the government will be subject to prosecution under the Infectious Diseases Act.
"Non-compliance with measures introduced by NUS to prevent the spread of COVID-19 is considered an offence, and disciplinary action will be taken against staff and students. All non-compliance will be dealt with in accordance with the NUS Code of Conduct and the NUS student disciplinary procedures," said a circular signed by Dr Peck Thian Guan, director of NUS's Office of Safety, Health and Environment.
On Wednesday the Singaporean government raised its advisory for outgoing residents from stopping non-essential travel to deferring all travel, while a Singaporean coming back from anywhere in the world will have to serve a full 14-day self-isolation period.
Hong Kong students rush back
The Hong Kong-based airline Cathay Pacific said it had increased the number of flights bringing people to Hong Kong from London and Manchester.
But students arriving in Hong Kong said the outbreak in Europe had led to a huge rise in the price of air tickets, with one student saying she had paid the equivalent of US$6,670 for a one-way flight from London to Hong Kong – almost 10 times the usual price at this time of the year.
Universities in Britain, unlike countries such as France and Italy, have not been ordered closed by the government but many had shut down anyway, students said.
A second-year student from University College London (UCL), who gave her name only as Cary, and who is now back in Hong Kong, told University World News on Wednesday: "I am more worried about the coronavirus than the university closure, to be honest. The British government is delaying action on shutting down, and this does not inspire confidence. I feel safer in Hong Kong which now has had some experience with this coronavirus.
"Officially, London is already worse affected by the virus than other parts of England, but people are still in the streets without wearing masks and schools are still open. Nearly all the Hong Kong students I know in London say they are coming back," she added.
UCL said it would provide online classes in her subject, international studies, "but it is a big time difference with Hong Kong so I don't know how this will work," she said, referring to an eight-hour time lag.
Elizabeth Quat, a pro-Beijing Hong Kong legislator, said she had received requests for assistance from two Hong Kong students studying in London and Manchester who suspected they were infected with the virus but said they had been unable to get tested for the virus, as tests were not provided, and they were told to self-isolate.
Quat urged all Hong Kong students who are overseas to return as soon as possible and quarantine themselves for 14 days on arrival.
There has been no indication of when universities would reopen in Hong Kong. However, Hong Kong Chief Executive Carrie Lam admitted this week there was little to no possibility that secondary and primary schools would be able to reopen on 20 April as previously expected. Schools have been closed since late January.
Head teachers have been calling on the government to allow the reopening of secondary schools "in stages to allow students to sit their [Hong Kong] Diploma of Secondary Education examinations, which are scheduled to begin on 27 March and end in early May. Some 52,000 students are scheduled to sit the exam".